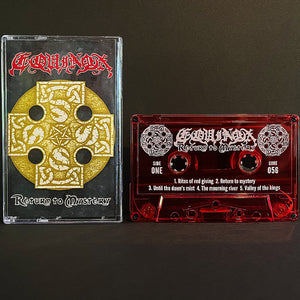 EQUINOX - "RETURN TO MYSTERY" CASSETTE
This is the first album from Florida blackened death metal group EQUINOX. Mixed at the legendary Morrisound Studios in Tampa, FL and originally released on CD in 1996 by Unisound Records (Greece).
This is truly an underrated masterpiece of the Florida death metal scene. Released in the mid 90s during the heyday of extreme music, EQUINOX bridged the gap between early USA death metal and the bourgeoning Scandinavian black metal sound. Highly influenced by acts such as Celtic Frost, Necrovore, and early Mayhem, EQUINOX eschewed guttural brutality, instead adding an atmospheric mysticism into their primitive death metal songwriting.
It's an absolute honor to reissue this masterpiece for the first time!
LIMITED TO 200 STANDALONE COPIES FEATURING A RED SHELL WITH WHITE PRINT. THE 4-PANEL J-CARD STAYS TRUE TO THE AESTHETIC OF THE ORIGINAL CD LAYOUT AND DESIGN.
The album is also available in the Equinox Collector's Boxset, along with their second album "Journey Into Oblivion," as well as 2 other demo tapes and a patch and 2-sided poster. Limited to 100. Get yours here: http://www.gurglinggore.com/product/equinox-collector-s-boxset
FFO: Acheron, Incubus, Celtic Frost, Necrovore