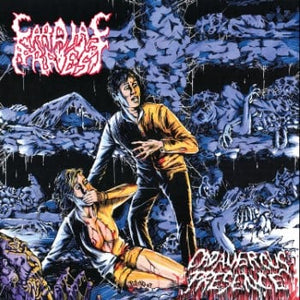 CARDIAC ARREST - Cadaverous Presence (12" Gatefold DOUBLE LP on Black Vinyl w/ Insert)
Regular price $23.00 Sale
Formed in 1997, Chicago's CARDIAC
ARREST continues to assault the death metal underground with their horror-inspired death metal. Never catering to the trends, CARDIAC
ARREST have remained a force to be reckoned with and show no signs of compromise. With numerous releases, festival appearances, tours in the US, Canada, and Europe, and respect of peers and fans alike, CARDIAC
ARREST proudly carries the flag of true DEATH METAL.
In lieu of signing with longtime fans HELLS HEADBANGERS for their forthcoming eighth album, CARDIAC ARREST are releasing on double-vinyl for the first time ever their second album (and fan favorite), 
Cadaverous Presence
. Originally released in 2008 on CD, Cadaverous Presence was a raw, rude, and disgusting display of the band's deadly powers. While the year might've been 2008, 
Cadaverous Presence

 
could totally have come from 1988, so authentic and assaulting was their alternately blasting/doomy attack. Somewhere between early Autopsy, Impetigo, Master, and of course Repulsion lay CARDIAC ARREST - and they've never once sold out since then to trendiness. 
Cadaverous Presence
 is the perfect snapshot of their unyielding, uncompromising sound, and one whose wild 'n' wonderful ways continue to age like fine (blood)wine.
At long last available on vinyl, 
Cadaverous Presence
 welcomes CARDIAC ARREST to ugly, unruly family of HELLS HEADBANGERS!