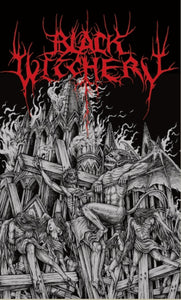 BLACK WITCHERY - Inferno Of Sacred Destruction (CASSETTE)
2021 repress. Professionally manufactured cassette with silver print on red tinted shells. Released by Hells Headbangers and Darkness Attack.
In 2001, BLACK WITCHERY decimated an unsuspecting scene with their
"Desecration of the Holy Kingdom"
debut. Four years later came another strategic strike against the weak 'n' false with
"Upheaval of Satanic Might
." Now, as anticipation reaches a fever pitch, BLACK WITCHERY return to claim their crown as the unrivalled masters of unrepentantly barbaric blackdeath with
"Inferno of Sacred Destruction
." More caustic, close-minded, and crushing than ever, this unholy black/death speed trinity create an unholy conflagration guaranteed to devour and destroy even the most battle-hardened underground warrior - witness the
"Inferno of Sacred Destruction"
! Recommended for maniacs of BLASPHEMY, ARCHGOAT, REVENGE.
T-4