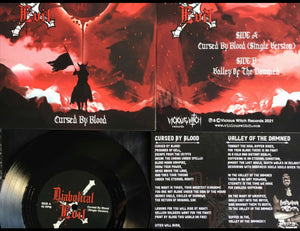 Diabolical Evil - Cursed By Blood 7"
Vicious Witch Records proudly presents it's second
release : Diabolical Evil - Cursed By Blood on 7 inch
vinyll! Diabolical Evil hail from Brazil and they are ready
to conquer the world with their addictive Black/Speed
Metal merciless onslaught!
Their music includes elements of classic heavy, epic
and speed metal, first wave of black metal and lots of
old school thrash metal madness! One song on each
side of this 7 inch vinyl. Cursed By Blood track has
been remastered and changed just for this Single
Version on this release.
Furthermore as a B-side there is the never released or
heard Black/Speed/Thrash Metal hymn - Valley of the
Damned! Furious headbanging sign is up, killer
addictive riffs, galloping like the horses of Hades
rhythm section and evil vocals that Il haunt your ears
under the spells of the moon! As the band describes
their music this is - Diabolical fire and evil spells in the
night of eternal black magic!


https://viciouswitchrecords.bandcamp.com/album/cursed-by-blood