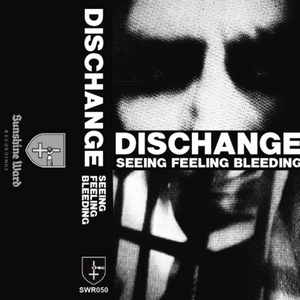 Dischange - Seeing Feeling Bleeding MC
AAAAAAARRRRGHHH!!!!!!!!!!!!
Recorded in Tomas Skogsberg's Sunlight Studios (ENTOMBED, DISMEMBER, GRAVE, DARKTHRONE etc), and originally released in 1993, "Seeing Feeling Bleeding" helped to lay the blueprint for the crust-adjacent genre known as D-Beat, now filled tons of insane bands, who (whether they know it or not) have followed directly in Dischange's footsteps.
Dischange's brand of intense, d-beat driven Discharge-worship is a raging wall of oppressive sound. The sheer brutality of the music on this album is only surpassed by the urgency of its message. War! Death! Destruction! Oppression!
This cassette tape is limited to just 125 copies on black-as-night tape shells. SWR proudly presents "Seeing Feeling Bleeding" for first time on tape in nearly 30 years!
FFO: Discharge, Disrupt, Anti-Cimex, Wolfbrigade/Wolfpack, Tragedy, Digust, Doom (UK), Varukers, and every Crust Punk and Metal band!
CHECK IT OUT: https://youtu.be/0ZPduVqluhM
I-3