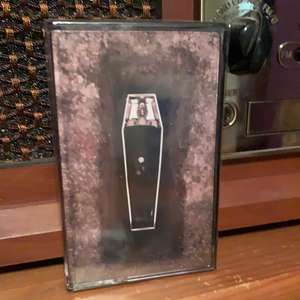 Fate - II
Hailing from Padua and formed in 2018, the four members of Italy's Fate have a rich and varied background in numerous metal and punk bands the past decade-plus. Coming together under the simple-yet-stately moniker of Fate, their intention from the beginning has been to honor ancient-yet-eclectic cults under that wider umbrella of heavy metal and punk rock. Thus, the influences of Celtic Frost, GISM, and Cirith Ungol all bear equal importance upon theirunique aesthetic.
The first fruits of that aesthetic came with Fate's first EP, I, which was released in a super-limited cassette version of just 33 copies. The cover art, skewing the classic speed metal slogan of Banzai Records, was indicative of Fate's faithful-yet-idiosyncratic approach to metalpunk, and they've eclipsed that feat with the even-stronger II.
Featuring three tracks in a swift-yet-satisfying 11 minutes, Fate's second strike manages to engage in a narrative way despite its short length. Opener "Where the Gods Go to Die" has a crypt-lurking stomp that's eerily mournful; then "Maskof Silver Death" fluidly shifts tempos and back - and often - whipping forth a fury one minute, readying for battle the next; and closer "Demiurge" brings the EP to a dramatic end, literally ripping across the battlefield with a triumphant gallop and cappedby a spectral synth outro. Through it all, the quartet ooze attitude and charisma, evincing a sound and style that seems aeons-old but simultaneously strangely fresh. Recorded and mixed by Alex Rossi and mastered by Arthur Rizk, one could successfully arguethat the production is utilized as a second instrument here, but Fate have the songwriting chops in spades - and they're just getting started!