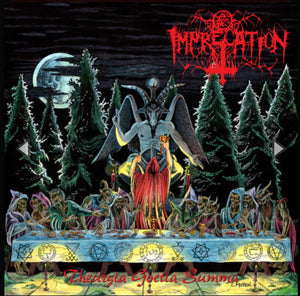 Imprecation "Theurgia Goetia Summa" LP
Regular price $27.00 Sale
ANTI-GOTH 663
160 gram vinyl

Gatefold jacket

32 page A4 booklet full of archival images

18"×24" full color poster
Description by J. Campbell)
Formed in 1991 and hailing from Houston, Imprecation are among the few bands from that era—along with such notable acts as Absu and Divine Eve—that were responsible for securing the legacy of death metal in Texas. The band began with guitarist Phil Westmoreland and drummer Ruben Elizondo, departed from a band called Dark Reign to pursue a different sound with a new project. Originally called Undertaker, the band underwent several lineup and stylistic changes before it coalesced into Imprecation with the addition of bassist Mark Beecher, guitarist Victor Fernandez, and vocalist Dave Herrera. Influenced by revered death metal acts like Entombed, Morbid Angel, and Immolation, as well as black metal pioneers Beherit, Blasphemy, and Profanatica, Imprecation enshrouded their tightly wound, intricately structured songs within a dense and opaque atmosphere. Like many of their peers in the underground scene at the time, there was a darker dimension to their style of death metal, channeling malefic forces and conjuring hellish visions. After playing together for about a year, they recorded and released their first demo, "Ceremony of the Nine Angles," in 1992. After a few modifications to the lineup, they released the "Sigil of Baphomet" EP the following year on the Spanish label Drowned Productions. In 1994, they recorded three new songs that they released as a tape called "Promo 94" in anticipation of completing a full album. Recognizing the malevolent splendor of these early recordings, Drowned, which had recently changed its name to Repulse Records (and later evolved into Xtreem Music), compiled the EP and demos as a CD release entitled "Theurgia Goetia Summa." Although this would be Imprecation's last release for the next 15 years, when the band reformed with a new lineup, the impact of those early recordings continued to emanate. With a decidedly American sound, engulfed in an aura of occult revelation with lyrics evoking the psychedelic reverie of pure blasphemy, Imprecation were among the elite visionaries of the early 1990s death metal scene. NWN! is honored to present this new vinyl edition, restoring the original Repulse CD with color Chris Moyen cover art on a gatefold jacket. It includes a poster of the original demo art that, because of the Satanic imagery, the band could not get printed at the time, and a 32-page booklet featuring liner notes from David Herrera, old gig flyers, and additional artwork from the time period. Keeping the audio quality faithful to the original, this new vinyl edition is not remastered.
CD and Tape editions will be done in collaboration with Goat Throne Records. Due out in a few months.