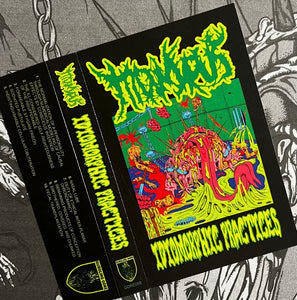 MOISCUS - "IDIOMORPHIC PRACTICES" CASSETTE
The latest mini-album from Ohio's MOISCUS is out now on limited edition cassette tape in 2 color variants! Begins shipping Wednesday, February 22nd.
This is the band's 3rd mini-album and by far their best to date! They continue to churn out ridiculous heaviness in their signature goregrind/brutal death metal hybrid sound. This time around it's heavier, the riffs are groovier, the blasts more ping-y, and the production is crisper thanks to the mixing/mastering job by Cody Davidson (Sanguisugabogg).
Details:
🤢Neon Green Cases
🤢2 Shell Variants:
🤢Pink Tongue (lmtd. 200)
🤢Milky Liquid (lmtd. 100)
🤢2 Ink Color Shell Imprints
🤢2-Sided J-Card Insert
🤢Includes a Bandcamp Code
🤢Shrinkwrapped
Artwork by:
Stephen McNeely
instagram.com/stephenmcneely
T-4