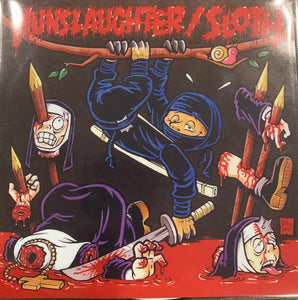 NUNSLAUGHTER / SLOTH - Split (7" PICTURE DISC w/ Insert)
OUT NOW! HELLS HEADBANGERS is proud to reissue, on exclusive 7" picture disc, the 2007 split 7" between NUNSLAUGHTER and the American SLOTH. Released on a long-gone label, this split paired NUNSLAUGHTER with one of their oddest split-record partners. NUNSLAUGHTER, as expected, offer up two quick 'n' burly mini-anthems featuring their most beloved lineup of Don of the Dead, Reaper, and the late, great Jim Sadist (RIP). For their part, SLOTH offer up three tracks of bewildering punk/noise experimentalism, making this split even more collectible for NUNSLAUGHTER completists. Get this one once again before it's gone forever!
Recording information:
Recorded at Mother Mary's Rehearsal compound on or about November 25th, 
2006.
Mixed at Bedroom Studios on January 9th, 2007.
Side A
Nunslaughter - God Has Lied 01:27  Show lyrics
Nunslaughter - Hornets in the Chapel 01:57  Show lyrics
Side B
Sloth - Nerdinja 02:00
Sloth - Big Pharm Scam 00:53
Sloth - Nerdinja (Reprise)