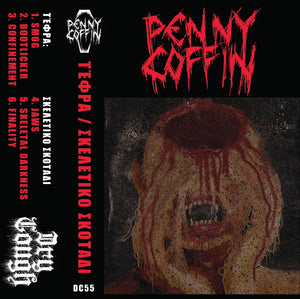 PENNY COFFIN - ΤΕΦΡΑ / ΣΚΕΛΕΤΙΚΟ ΣΚΟΤΑΔΙ CASSETTE
Drawing inspiration from throughout extreme metal, the band utilise sinister riffage and an onslaught of caustic drumming, alongside demonic, suffocated vocals, and miasmic guitar atmospherics, to create some brilliantly harsh and claustrophobic sounding death metal.

The band thundered in to view with 2021's ΤΕΦΡΑ" (pronounced, tefra, meaning the ash of human remains, in Greek), the first collection of songs from their early sessions, and Dry Cough is now proud to present their debut physical release, a compilation of both "ΤΕΦΡΑ" and new recording "ΣΚΕΛΕΤΙΚΟ ΣΚΟΤΑΔΙ" (Skeletal darkness), immersing the listener in the throes of unrelenting death and doom.
Featuring the harrowing artwork of Rio Oka.
2nd Run Limited to 100 Copies.