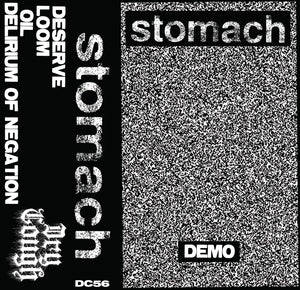 STOMACH - DEMO CASSETTE
Hailing from Geneva, Illinois, and fronted by former Weekend Nachos / LEDGE man, John Hoffman, STOMACH offers a bleak and desperate blend of sludge & doom, with a touch of noise/powerviolence added to the mix for some additional aural carnage.
The very first sampling of music from STOMACH offers a wide range of heavy, dirgey tones and lyrically antisocial howls of pain. These depressing and hateful jams with both satisfy you and tear you down at the same time.
This 4-song demo was first released in the United States on PRACTICED HATRED RECORDS.
Self-recorded at THE PIT II in Geneva, IL and mixed/mastered by Will Killingsworth at DEAD AIR STUDIOS.
FFO Noothgrush, Grief, Sunn O))), Earth, all things slow & painful.
H-2