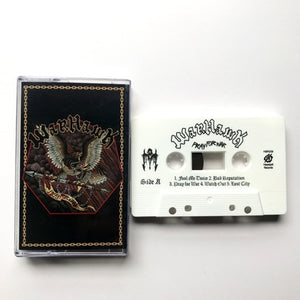 Warhawk - "Pray For War" cassette
HSR339] WARHAWK - "PRAY FOR WAR" cassette version out now from Headsplit Records!
Real red blooded filthy metal rock from Sweden! For true headbangers only! Warhawk's debut album "Pray For War" delivers nine tough as nails original anthemic rippers the old way. Guitar riffs that stick in your head hard pair well with the perfect cigarette tinged whiskey drenched vocals of Robert Hansson (Bestial Mockery / Rawhide). Highly recommended for Motörhead and Tank fans. Fully endorsed by the one and only ROK of Sadistik Exekution! CD version also available from Headsplit. LP version out in June from Cimex Records.
Check some studio audio here: https://www.youtube.com/watch?v=oMKG7OMhzmk